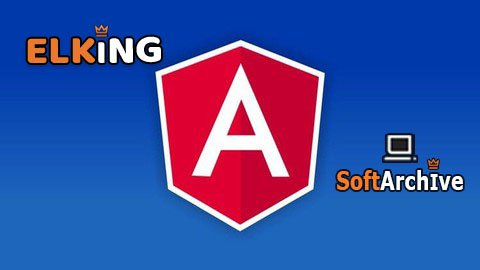 AngularJS Masterclass - Learn & Understand AngularJS

MP4 | h264, 1280x720 | Lang: English | Audio: aac, 44100 Hz | 6h 51m | 2.11 GB
What you'll learn
Learn fundamental Javascript concepts that power AngularJS.
Write quicker, better AngularJS code by discovering how AngularJS itself is built.
Become fluent in AngularJS terminology, such as dependency injection, services, directives, transclusion, and more.
Realize the power of dependency injection, and how AngularJS accomplishes it.
Design custom directives and save time and energy with easily reusable components.
Understand what a Single Page Application (SPA) is, and how they work.
Build a Single Page Application (SPA) in AngularJS.
Be the coder that explains AngularJS to everyone else, because you understand it better than anyone else.
Get new free lectures during 2015, keep up with the development of AngularJS 2.0, and get a MASSIVE discount on a future AngularJS 2.0
Requirements
A browser and a text editor
Basic knowledge of programming
Basic knowledge of HTML, CSS and Javascript
Description
Why AngularJS?
AngularJS is the most popular JavaScript framework out there in the market backed by Google. AngularJS helps you in creating complex web applications in less time. It's gonna add value to your resume and even help in getting good salary job.
This course will get you up and running quickly, and teach you the core knowledge you need to deeply understand and build AngularJS applications - and we'll build a single page application along the way.
We'll design custom services, build custom directives, understand two-way binding, design a weather forecast app as a single page application, and lots more. Both starter and finished source code is provided as we go.
If you are new to AngularJS, or if you've been working to learn it but sometimes feel like you still don't quite 'get it', this is the AngularJS course for you! To learn AngularJS you have to understand it.
I've built the course that I would have wanted to take when I was learning AngularJS. A course that explains the concepts and how they're implemented in the best order for you to learn and deeply understand them.
What's Inside This Course?
Learn how AngularJS works, covering subjects like directives, dependency injection, two way data binding, the digest loop, watchers, and more.
Learn fundamental Javascript and HTML principles that are used by AngularJS, such as custom attributes, loosely typed arrays, the hash, and the event loop.
Code custom services.
Design custom directives, understanding concepts like compile, link, and scope.
Build a single page application using AngularJS.
Keep up with the latest on the next version of AngularJS 2.0!
AngularJS doesn't have to be hard to learn. The biggest mistake most coding tutorials make is expecting someone to learn simply by imitating others' code. Real world situations are never exactly like the tutorial.
I believe the best way to learn is to understand how a tool works and what it does for you, look at examples, and then try it yourself. That's how this course is built, with the goal to help you both learn and understand AngularJS.
Note: In this course you'll also get downloadable source code. You will often be provided with 'starter' code, giving you the base for you to start writing your code, and 'finished' code to compare your code to.
Who this course is for:
Web developers and designers looking to learn AngularJS
Those who have researched AngularJS but still find it hard to understand
Developers and designers who have used jQuery but are tired of doing everything manually
Code:
https://rapidgator.net/file/07f4d87d315eeb739c3bb2f93d648e3f/The_Complete_Angular_Course_Beginner_to_Advanced.part1.rar.html
https://rapidgator.net/file/41e9ccdd37ab99e3eb8bb22bffe0efd6/The_Complete_Angular_Course_Beginner_to_Advanced.part2.rar.html
https://rapidgator.net/file/d0b86b82e224c2603a3fa82a790dd163/The_Complete_Angular_Course_Beginner_to_Advanced.part3.rar.html

https://dropapk.to/rs4v8p0up0df
https://dropapk.to/ql8z6azy8jp0
https://dropapk.to/b7x73gnw5j8b