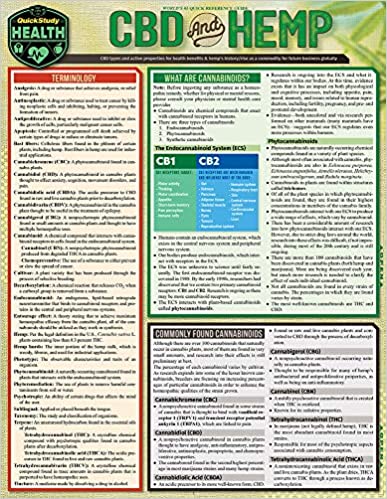 CBD & Hemp (QuickStudy Health) | English | 2019 | ISBN-13 : 978-1423241751 | 6 Pages | True PDF | 15.41 MB
CBD is now everywhere… what is it exactly, how does it work within your body, what can it be used for, and what is known about it right now in a time where solid scientific research is limited? The 2018 Farm Bill legalizing industrial hemp nationwide ensures CBD as well as many other hemp related products will be flooding the shelves. In this 6 page laminated guide, author Joel Hathaway (Hemp Magazine) has created the ultimate reference filled with the answers you need to understand CBD and hemp's history, health applications, use as a food supplement and commodity crop. A multitude of new applications for hemp are included that will open the door to businesses that will boom like the CBD business is now, which was a focus and mission of The Farm Bill - to create a gold rush of new products and industry for the U.S. This thorough fact-filled reference can help you be healthier - but may also inspire a new business venture.
What Are Cannabinoids?
The Endocannabinoid System (ECS)
Phytocannabinoids
Commonly Found Cannabinoids
The Entourage Effect
What Is CBD?
What Is CBD Used for?
CBD Delivery Methods
CBD Dosage
What Is Hemp?
Hemp Related Terminology
Hemp History
Legal Status of Hemp
Industry Agricultural Growth (2015–2018)
Hemp Legalization Worldwide
Industrial Applications for Hemp
Edible Hemp
Environmental Aspects of Hemp
Quote: