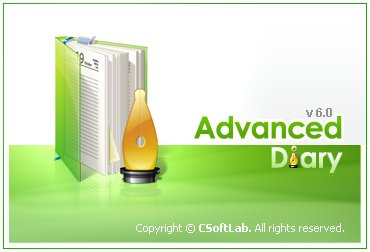 CSoftLab Advanced Diary 6.0 Multilingual | File Size: 62.7 MB
Advanced Diary represents the digital version of a standard diary. The only difference is that you can store it online and access it from anywhere in the world, in addition to protecting it with a password. The program is wrapped in a clean and sophisticated interface which has an intuitive layout. Advanced Diary allows you to toggle between three viewing modes - standard, ribbon and mixed.
Other customization options revolve around the color scheme (select between 11 colors) and 25 languages to choose from. The app integrates a complete word processor with advanced functions related to the format (e.g. grow or shrink the font, superscript, line spacing) and tables (e.g. split cells, cell borders).
Moreover, you can insert text from files, hyperlinks, pictures, symbols, horizontal lines, page brakes and the current date/time. Using the undo and redo functions are possible, along with a search-and-replace feature.
Extra settings of Advanced Diary let you create and manage a favorites list, attach files, manage a multimedia diary (e.g. record audio and video), backup and restore data, manage databases, import and export files, save files as templates, as well as use emoticons and view a calendar, just to name a few.
From the 'Options' area you can set Advanced Diary to automatically run at system startup and to minimize to the system tray, set a hotkey to call up the program, enable automatic backups, as well as configure fonts and text editor settings (e.g. default font, background color, padding).
The tool requires a moderate amount of system resources, includes a help file and daily tips, and has a good response time. Advanced Diary did not freeze, crash or pop up errors during our tests. This digital diary can surely please any user who doesn't prefer the blogging platform.
Here are some key features of "Advanced Diary":
Intuitive, user-friendly interface.
Advanced Diary supports various interface types and color schemes.
Fully customizable view.
Multilanguage support.
Flexible tree-like database structure.
Capability of creating new databases; simultaneous work with multiple databases.
On-the-fly database swapping.
Password protection.
Database encryption.
Files attachment.
Voice recording.
Ability to create and insert the diary templates.
Supports multiple diaries and multiple entries for a single day.
Supports Calendar and Document Tree navigation types.
Printing with configurable templates. Ability to export the print reports into RTF or HTML file.
Built - in print templates editor.
Ability to edit the print reports before print.
Page header and footer are supported.
·Ability to export the print reports into RTF or HTML file.
Powerful database search engine.
Import and export features (rtf, txt, html, ddb)
RTF support.
Paragraph formatting.
Image insertion.
Bullets and Numbering.
Hyperlinks to other database records or Internet/local/network files.
Ability to work with tables.
Spell checking and thesaurus.
Minimization to the system tray (optionally).
Simple installation and uninstallation
What's new
https://www.csoftlab.com/diary/history_of_changes
[/code]
Platform:
Windows XP, Vista, 7, 8.x, 10 (32 or 64 bit)
Homepage
Code:
https://www.csoftlab.com
Quote: