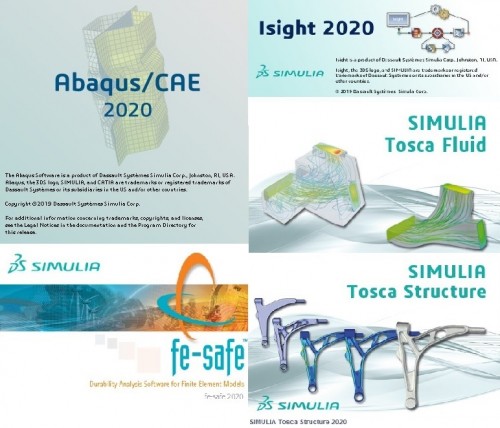 DS Simulia Suite 2020 (x64) Include Crack | Size 7.51 GB
Information:
Quote:

Release Date :

2019


Languages :

English


Operating System :

Windows 7 / Windows 8 / Windows 8.1 / Windows 10


System Type :

64-bit


Software Version :

2020 Build ID 2019_09_13-20.49.31 163176



DS Simulia Suite 2020 Include


1- Abaqus
2- Isight
3- Fe-safe
4- Tosca



Abaqus


Today, product simulation is often being performed by engineering groups using niche simulation tools from different vendors to simulate various design attributes. The use of multiple vendor software products creates inefficiencies and increases costs. SIMULIA delivers a scalable suite of unified analysis products that allow all users, regardless of their simulation expertise or domain focus, to collaborate and seamlessly share simulation data and approved methods without loss of information fidelity.

The Abaqus Unified FEA product suite offers powerful and complete solutions for both routine and sophisticated engineering problems covering a vast spectrum of industrial applications. In the automotive industry engineering work groups are able to consider full vehicle loads, dynamic vibration, multibody systems, impact/crash, nonlinear static, thermal coupling, and acoustic-structural coupling using a common model data structure and integrated solver technology. Best-in-class companies are taking advantage of Abaqus Unified FEA to consolidate their processes and tools, reduce costs and inefficiencies, and gain a competitive advantage.



Isight


In today's complex product development and manufacturing environment, designers and engineers are using a wide range of software tools to design and simulate their products. Often, chained simulation process flows are required in which the parameters and results from one software package are needed as inputs to another package and the manual process of entering the required data can reduce efficiency, slow product development, and introduce errors in modeling and simulation assumptions. SIMULIA provides market-leading solutions that improve the process of leveraging the power of various software packages. Isight and the SIMULIA Execution Engine (formerly Fiper) are used to combine multiple cross-disciplinary models and applications together in a simulation process flow, automate their execution across distributed compute resources, explore the resulting design space, and identify the optimal design parameters subject to required constraints.

Our proven simulation automation and optimization solutions enable engineering teams to:
Drastically reduce design cycle time through integrating workflow processes in an automated environment.
Deliver more reliable, better-quality products through accelerated evaluation of design alternatives.
Lower hardware investments through effective use of legacy systems and more efficient job distribution.
Eliminate the bottlenecks of ineffective communication by enabling secure design collaboration among partners.



fe-safe


Durability Analysis Software for Finite Element Models
fe-safe — The Durability Suite
Industry is putting increasing pressure on manufacturers to use less material to deliver lightweight but stronger components, lower warranty and recall costs and all in less time. Many companies use advanced finite element analysis to calculate design stresses, but the fatigue analysis is often still done by manually picking stress points for spreadsheet analysis. This is time-consuming and unreliable because it is easy to miss failure locations. The fe-safe suite of software is world-leading technology for durability analysis from FEA, directly interfacing to all major FEA suites (Abaqus, ANSYS, Nastran (MSC, NEi, NX), Pro/Mechanica) and its capabilities have been developed to meet the most demanding industry applications. fe-safe was the first commercially available fatigue analysis software to focus on modern multiaxial strain-based fatigue methods and it continues to set the benchmark for fatigue analysis software. fe-safe is included in Extended Packaging, allowing unified access to all solution technologies within the portfolio through a single token pool.



Tosca


Efficient Optimization Based on FEA and CFD Simulations
Tosca - The Optimization Suite
The Tosca optimization suite provides fast and powerful structural and flow optimization solutions based on FEA and CFD simulations. Tosca optimization suite consists of two products: Tosca Structure is for optimized structural designs, and Tosca Fluid provides optimized fluid flow design concepts. Tosca Structure delivers powerful optimization solutions for design of lightweight, stiff, and durable parts and assemblies within shorter development cycles to maximize performance, minimize material and weight, and discover new design possibilities. Tosca Structure offers functionalities for topology, shape, bead and sizing optimization. Tosca Fluid enables topology optimization-driven design concepts for fluid flow systems and components. Use its capabilities to create innovative design ideas automatically for a defined flow task and available package space. Tosca Fluid's unique technology helps you achieve the highest flow performance, quality and eco-efficiency.

Code:
https://uploadgig.com/file/download/0eb605c699D95a98/Meera169_DS_Simulia_Suite_2020_x64.part1.rar
https://uploadgig.com/file/download/5490A7c3D262F824/Meera169_DS_Simulia_Suite_2020_x64.part2.rar
https://uploadgig.com/file/download/4489f4Acb6953381/Meera169_DS_Simulia_Suite_2020_x64.part3.rar
https://uploadgig.com/file/download/fe8a355cf303801E/Meera169_DS_Simulia_Suite_2020_x64.part4.rar
https://uploadgig.com/file/download/1e4f044a7b30Ee4f/Meera169_DS_Simulia_Suite_2020_x64.part5.rar
https://uploadgig.com/file/download/00062Eab20d673F7/Meera169_DS_Simulia_Suite_2020_x64.part6.rar
https://uploadgig.com/file/download/d4012a63220297CE/Meera169_DS_Simulia_Suite_2020_x64.part7.rar
https://uploadgig.com/file/download/b938A51b57a2ee77/Meera169_DS_Simulia_Suite_2020_x64.part8.rar

Code:
https://rapidgator.net/file/8ccf58f3f03fac8dfb9a6cbcd551e90a/Meera169_DS_Simulia_Suite_2020_x64.part1.rar
https://rapidgator.net/file/318a5cc90fd6bb16106bdf4f16fd362f/Meera169_DS_Simulia_Suite_2020_x64.part2.rar
https://rapidgator.net/file/779d4e76582f1d0b7f13df885e94cd59/Meera169_DS_Simulia_Suite_2020_x64.part3.rar
https://rapidgator.net/file/6da63de233b5b6bbef7ce0722f9739f5/Meera169_DS_Simulia_Suite_2020_x64.part4.rar
https://rapidgator.net/file/aa41647fa327efabf9262cb3002cbf58/Meera169_DS_Simulia_Suite_2020_x64.part5.rar
https://rapidgator.net/file/9909bcd91356dbb3c74f55008a1e54da/Meera169_DS_Simulia_Suite_2020_x64.part6.rar
https://rapidgator.net/file/21b7487ab7c55bd3ded16595ae8663f4/Meera169_DS_Simulia_Suite_2020_x64.part7.rar
https://rapidgator.net/file/a6421a147c87ab4bb8594bcda4edd3c4/Meera169_DS_Simulia_Suite_2020_x64.part8.rar