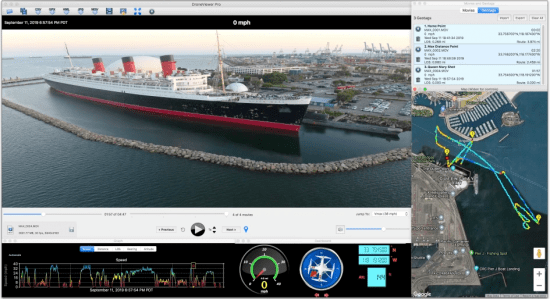 DroneViewer 1.2.4 | Windows (x64) | File Size: 93.5 MB
With DroneViewer you can see exactly where your drone was on a Google Map at the time of video capture. You can GeoTag key points in your video to mark their positions on the Map and return to those points at any time. The GeoTags also display the line-of-sight (LOS) distance from the tag to the current drone position.
Features :
Play your DJI, Autel, or GoPro HERO videos on the main screen while watching your drone's speed, distance, position, and bearing update on graphs, data displays, and maps.
Instant results– no need to re-render your video to see the data displays.
"Geotag" points of interest along your journey. Export these to a file. Or import them back in.
Zoom in/out and pan your video while it's playing.
Export your GPS tracks to common file formats such as comma-separated value (CSV), Google Earth KML, and GPS-exchange (GPX) for further data analysis.
Export portions of videos to new clips
Combine multiple videos into a single video
What's new:
Code:
https://filedn.com/l2s8TAtm4VASBX72ds0zYD8/drv/droneviewer_history.pdf
Homepage
Code:
https://mydroneviewer.com/
Quote: