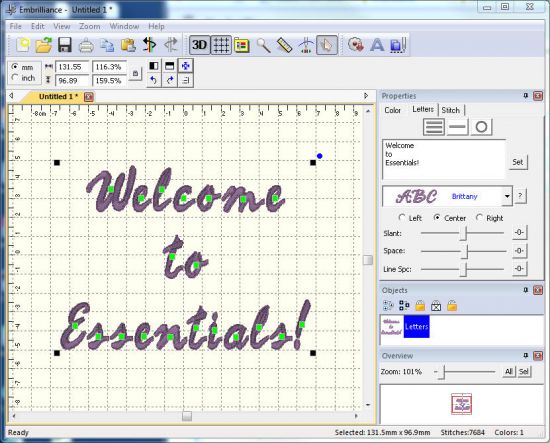 Embrilliance Essentials 1.169  | File size: 61.5 MB
Every embroiderer needs to do some basic things. Those things should be easy and fun, but without really good software they are a struggle. That's why we made Essentials! Merge, resize (recalculate stitches) remove overlaps, colorize, print templates, add lettering and so much more all with this one amazing program. It's not just our best-seller - it's the best-selling embroidery program on the web!
What can you do with Essentials?
Merge embroidery designs in almost any format, even while they are in .ZIP files.
Resize embroidery designs with stitch recalculation.
Colorize embroidery designs and convert between thread brands.
Add lettering to your embroidery designs in Multi-Line, Monogram and Circle modes. You can even spiral text or make really LARGE embroidered letters.
Modify lettering and create monograms with built-in placement templates and styles, including slant, spacing, and curve tools.
Sequence lettering to run left to right, reverse, and center-out for easy hat and cap text.
Convert lettering objects to stitches for inserting mid-letter color changes and functions.
Save any design into your embroidery machine's format.
Save appliques for cutting machines such as Brother ScanNCut and Silhouette.
Automatically split embroidery designs for many common Multi-Position hoops.
Get 'Project Advice' for many difficult embroidery tasks and materials.
Save 'working' embroidery files so that you can edit and replace text later.
Save notes on individual designs in your file to store special instructions and information.
Print real-size embroidery design templates with support for scanning /cutting systems.
Overlap embroidery designs and have significant hidden stitches removed.
Set 'jump' stitches for automated trimming, hand trimming, and/or connecting run stitches.
Run a simulator to show how your designs will sew before you put them on your machine.
Import and type text using popular .BX font design collection files distributed by many digitizers and stock design companies.
Group and Ungroup embroidery objects and imported designs
Change or remove individual colors in an embroidery design.
Undo changes as you work, with many levels of 'Undo'
Fit designs to your hoop with stitch recalculation.
Align and Distribute elements in your embroidery design.
Add basting stitches to embroidery designs.
Use our special self-modifying designs, and try out a few that come with the program! These designs calculate their stitches as you play with them for super results!
Use special template files that allow for text in envelopes and on pre-drawn baseline shapes.
Manage your embroidery thread collection, including marking ones you own, including quick and easy import from CSV spreadsheet files.
Create Designer 1 floppy disks and USB sticks
Wirelessly send designs to Brother Luminaire Innov-ís XP1 and Baby Lock Solaris machines.
Directly access your imported fonts and libraries for easy transfer between computers.
What's New:
official site does not provide any info about changes in this version.
Homepage
Code:
https://embrilliance.com/product/essentials
Quote: