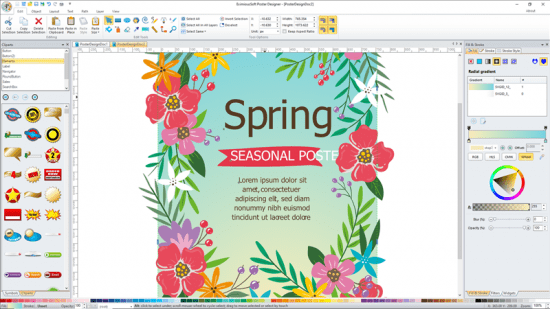 EximiousSoft Poster Designer 3.75  | File size: 54 MB
EximiousSoft Poster Designer includes 2000+ templates in pure vector format with the top quality. All elements in the template can be freely edited and replaced as required. At the beginning of each design, you can choose a template that best matches the target design as a draft or start your own design process from scratch. The poster program also contains 5000+ vector symbols and more than 1000+ clip art and other design materials. These materials can be added to the work by drag and drop at any time as needed. The posters that have been designed can be exported to PDF, SVG, SVGZ, PS, PNG, TIFF, JPG, BMP and other graphics or images, and can also be printed 100% without distortion on a local printer.
Key Features :
Top Quality Poster Templates
2000+ pre-designed vector format poster templates are offered.
Each drawing element in template can be edited, deleted or replaced freely as your needs.
5000+ Predesigned Shapes
More than 5000+ Shapes meet the vast majority of poster design needs.
Add shapes to poster design with drag and drop to edit them visually.
Import from Graphics and Images
Import vector graphics such as: SVG, SVGZ, PDF, AI, EMF, WMF, CDR, CDT, VSD, VSDX etc format.
Import raster image such as: PNG, JPG, GIF, TIFF, TGA, ICO, CUR, ANI, TGA, PCX, PSD etc foramt.
Draw Basic Shapes
Draw rectangles, ellipses, polygons, stars, spirals and other shapes on the canvas easily.
Choose different options when drawing shapes to quickly create unique artwork.
Fill & Stroke
Shapes, texts, paths can be filled with solid color, gradient colors, image or pattern as needs.
Stroke with solid color, gradient colors, image or pattern. Set width, dash, cap, join to make different style.
Edit Text inplace
Edit and typeset text like general word processing software, completely what you see is what you get.
Put a text on a path to make curved text object or put text into frame for grouping objects.
Transform & Smart Layout
Drag and drop to translate, scale, rotate, skew drawing objects, support grouping, ungrouping, flip, Mask, clip objects.
Layout objects with alignment, distribution, arrangement etc, support layers editing.
Practical Clip Art Material
Add clip arts to your poster design as needs with mouse drag and drop.
Each element contained in the clip art can be extracted into an editable object.
Print Posters and Flyers
Export poster designs as graphics or images to print them with outside printing service.
Print poster or flyer designs directly on a home or office printer.
Export to Graphics and Images
Export poster design as vector graphics with SVG, SVGZ, PDF, EMF, WMF, PS etc format without any quality loss.
Export poster design as raster image with PNG, JPG, GIF, TIFF, TGA, ICO, ANI, TGA, PCX, PSD etc foramt.
Path Drawing & Editing Tools
Draw path objects visually wth Freehand tool, Pen tool and Brush tool.
Support Path Boolean operation for selected shapes and offer Node tool to edit path.
300+ Amazing filters
Adding filter by a mouse clicking will make the design more professional and the effect more dazzling.
Each filter contains numerous options. The configuration can be manually adjusted as needs to achieve optimal results.
Spell Check & Find/Replace
Automatically find the wrong words in the editing, and recommend correctly spelled words according to the context.
Find and replace words that appear in all texts objects in a single or batch manner.
Modern UI Interface
The program comes with MS Office Ribbon interface. You can preview instant result when perform gallery commands.
Undo, Redo anytime anywhere. It is so easy, no Photoshop or CorelDraw skills is required.
Whats New
More creative poster templates with stronger visual impact have been added to the template library for the majority of designers to design and use. At the same time, the bugs that caused the black screen and downtime were fixed.
Homepage
Code:
http://www.eximioussoft.com/
Quote: