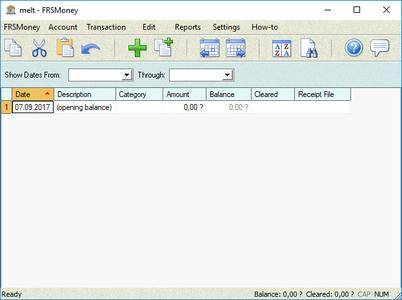 FRSMoney 2.1.1 | File size: 8.1 MB
FRSMoney helps you keep track of your financial transactions in your various accounts. Data entry is very intuitive.
Any account type is supported.
Integrated Documentation Center for quick access to supplemental application information.
Native 64-bit version now available.
Whats New:
Fixed:
• When adding a new account, its name wasn't checked against the existing names, so duplicate
names weren't detected (the new account with the same name was then not shown in the user
interface).
Changed:
• Merged the various "FRSMoney | History | Version ..." menu commands into one " FRSMoney
Version History" menu command, and thus all the documents into this one PDF that you are
reading now.
Added:
• "Account | Save Ledger..." menu command, to enable saving of the ledger's content (shown in
the main window) to an external text file, for the purpose of archiving it, preserving a snapshot
of it, or prepare for importing the data into another application.
Homepage
Code:
http://anonymz.com/....fourthray.com/
Quote: