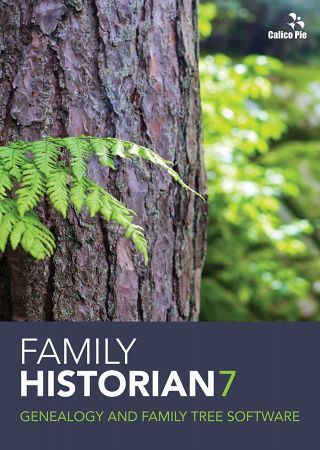 Family Historian 7.0.3  | Languages: English | File Size: 54.71 MB
Family Historian 7 has now been released. The new version brings a wealth of new features and improvements. Family Historian is a powerful, award-winning genealogy program with comprehensive features designed to meet the needs of the beginner and expert alike.
Feature List:
- Interactive Charts and Diagrams
- Smart Trees
- Link People to Faces in Pictures
- Integrated Word Processing Features
- Make Discoveries Easily With Automatic Internet Data Matching
- Search the Internet and Store the Results with Easy Web Clipping
- Find Locations and Track Changes Over Time in the Map Window
- Research Notes
- Source Templates
- Source-driven Data Entry
- Source Transcription Tools
- Create Websites and Share Family Tree CDs, DVDs, or Memory Sticks
- Create Books & Booklets
- Highly Configurable Reports
- Easily Record Your Sources With Automatic Source Citations
- A Powerful Merge/Compare Facility
- A Powerful Query Engine
- Create Your Own Fact Types
- Record More Detail with 'Witnesses'
- View Extended Family 'Timeline' Facts
- The 'How Related' Tool
- Notes & Documents
- The Plugin Store
- Scripting Tools
- Unicode and Accent Characters
- Multi-language Output
- Historical Maps
- GEDCOM 5.5.1
- Powerful Search and Replace Tools
- Mark Facts as Rejected or Private
- No Limits
- Full Multi-level Undo/Redo
- Easy and Fun to Use
- Tutorial, Documentation and Help
New Features in Version 7:
Integrated Word Processing
The Family Historian User Group has a long-standing Wish List, and the most-requested features on this list, by some considerable margin, are word processing features.
New Note Window
The new Note Window. The yellow highlighted text is an example of a hash tag (note-within-a-note). The Note Window is a new floating window (more on these below) designed for viewing and editing notes, and supporting all the new word processing features.
Research Notes
Research notes are separate from ordinary notes. Different styles of research notes are available, designed for logs, plans, or task lists; but you can design your own types to suit your preferred way of working. You can link records to research notes. Research notes support full word-processing features, so you can also insert links to any records into research notes. These link are not just to records for people, but to records of any type. You can even insert links to other research notes if you want to.
Source Templates
Source templates allow easier and more accurate recording of source information, and make possible more professional-looking citing of sources in reports. Two collections of source templates are provided with Family Historian: an Advanced collection modelled on Elizabeth Shown Mills book Evidence Explained, and an Essentials collection, designed by Calico Pie with help and advice from the Genealogy Programme of the University of Strathclyde. All templates can be customized, or you can create your own. You can even create your own collections to share with others.
Source-driven Data Entry
Version 7 supports a whole new workflow, based around working directly from sources. We call this Source-driven Data Entry, and it is designed to match the way genealogists typically work. When you receive a source of some kind (such as a document), you can now start by entering the details of that source directly into Family Historian. New tools are available to facilitate this process, including in many cases new data entry assistants. These are plugins (program extensions) which are designed for specific types of sources, and may be region-specific. They aim to make data entry both quicker and easier, while providing more consistent, comprehensive and professional results. A library of free data entry assistants can be accessed from within the program. This library is maintained in the Family Historian Plugin Store, and all Family Historian users can create data entry assistants, and share them via the library; so over time, we expect that more and more source types will be supported.
Source Transcription Tools
Support for recording Text from Source information (essentially transcriptions of the original source details) has been improved and uses autotext which allows standard layouts of standard documents from all over the world to be used, so that transcriptions can match the actual layout and format of the original documents. Users can easily create their own standard document layouts as needed, and even share these with others. Text from Source fields use all of the new word processing features (see above), some of which are particularly useful in this context – such as tables and record links. Some data entry assistants (see Source-driven Data Entry above) can also automatically generate high quality Text from Source transcriptions.
New Citation Window
The new floating Citation Window displays full details of source citations in one convenient place. It has a hideable side panel (see image right) which shows what source citations will look like in report or book footnotes, short footnotes or in bibliography entries in the new optional Bibliography section of books and reports.
Language Packs and Multi-language Output
The language of Family Historian itself continues to be English (U.S. English or U.K. English) ; so to use the program, some command of the English language is needed. However, the program can be used to record information in languages from all over the world, and reports, books and diagrams can all be rendered in multiple languages, using language packs (free downloads from the Family Historian Plugin Store). The current library includes French, German, Swedish, Dutch/Flemish, Norwegian, Portuguese and English.
New and Improved Diagrams
The new All Relatives + Indirect Relatives diagram
The new diagrams include:
- A new Everyone diagram – a replacement for the old Everyone diagram, which did not scale well.
- New All Relatives + Indirect Relatives diagram, which shows everyone that a person or couple are related to, directly or indirectly (a much-requested diagram type).
- A new Pedigree diagram
- A new Waterfall diagram
- Four new DNA diagrams
New Reports
The Calendar report
The following new reports have been added:
- Calendar
- File statistics
- Individual Scrapbook
- Individual Timeline
- Note Records
- Place Report
- Research Notes
- Sources and Citations
- Tagged Notes
- Plus record detail reports for the new record types…
Improved Report Window
The Report engine (the part of the program that generates reports) has been completely re-written to support the new word-processing features, and to provide higher quality output. The Report Window now supports scrolling across all pages, with a simplified and cleaner user interface. Reports and books now support a new optional Bibliography section (see the option in the Sources tab of Report options).
Improved Website and Family Tree CD/DVD Generation
Websites and Family Tree CD/DVD (or the equivalent distributed on a memory stick) are now all generated by a single easy-to-use wizard, from a set of source materials called a 'package'. There is no limit to the number of packages you can have in a project. You can preview a package without having to rebuild it. You can rebuild it, without having to step through the wizard. The same package can be exported as as website for upload to the Internet, or in a form suitable for output to a CD, DVD or memory stick. Generated websites are now responsive – that is, they automatically reorganize their layout for whatever device they are displayed on, so they can now be viewed conveniently on any device, including phones and tablets. Sharing family tree information with family and friends just got a lot easier!
Historical Maps
The Map Window shows events marked on maps. You can zoom in on them, just like Google Maps, and more detail emerges. In version 7, as an alternative to viewing events marked on ordinary maps, the Map Window lets you opt to view them marked on maps from Great Britain in the 1920's to 1940's (we gratefully acknowledge the support of the National Library of Scotland in making this possible). And like with present-days maps, you can zoom in on them and more detail emerges as you do so. In the future, we hope to provide more historical maps covering more regions and more times, if we can find suitable providers to partner with.
Fact Flags
Again, this is a much-requested feature: facts (that is, events and attributes, recorded in the Facts tab of the Property Box) can now be marked as Private, Preferred, Tentative and/or Rejected . All combinations are allowed. Private facts can be optionally excluded from reports, books, websites, exports, etc. Setting the Preferred flag is useful for contexts where you want to give prominence to key facts about a person – such as their most important and defining occupation among several. Setting a fact as Tentative is self-explanatory. The Rejected flag overrides all other flags. Set this flag if you have concluded that an apparent 'fact' is wrong (and hence should not appear in reports or diagrams, or exports). You can always change your mind and unset the flag later of course.
More Floating Windows
Floating windows are windows that you can leave open while you do other tasks. Some of them will automatically update themselves to reflect changes in other windows. The Citation Window, for example, is a floating window. So too is the new Note Window. Floating windows can dramatically shorten the time it takes to perform repetitive tasks, and avoid the need for constant closing and re-opening of windows. In version 7, many more windows have been made into floating windows. That doesn't mean that you have to leave them open. It just means that you can if you want to.
Improved Import from The Master Genealogist
Users of The Master Genealogist (TMG) have long complained about the problems of moving their data into other genealogy programs. The biggest single hurdle has been the codes ('sentence variables' in TMG) that were used by TMG to generate sentences for narrative reports. Other programs could not interpret these numerous and complex codes. This meant that important information could be lost in the transfer. Now at last there is a solution.
Release Notes
What's New in Version 7
Code:
https://www.family-historian.co.uk/whats-new-in-7
Version 7 Updates
Code:
https://www.family-historian.co.uk/v7-updates
Requirements:
Family Historian runs on Windows 10, 8, 7 and Vista.
Homepage
Code:
https://www.mediahuman.com/
Quote: