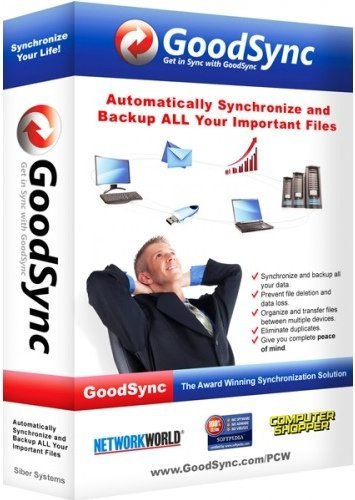 GoodSync Enterprise 11.5.7.7 Multilingual  | File size: 47 MB
File Synchronization and Backup Software. Easily back up and sync your files with GoodSync. Our simple and secure file backup and synchronization software will ensure that your files are never lost.
File Backup
An easy, fast, and secure way to automatically back up all of your data to multiple destinations and to restore it when needed.
File Synchronization
Real-time and automated data replication for one-way or two-way synchronization across multiple destinations and platforms.
REAL TIME DATA TRANSFER
Automated, scheduled, and real-time backup and synchronization with no user interaction required.
BLOCK LEVEL DATA TRANSFER
Propagates only the data blocks changed since the last analysis, significantly reducing backup time, network consumption, and storage requirements.
UNATTENDED SERVICE
Runs as a background service, performing automated, scheduled, and real-time backups with no user interaction required.
END TO END ENCRYPTION
Improves security by applying AES-256 bit encryption to your mission critical data in transit and at rest.
VERSION HISTORY CONTROL
Saves single or multiple versions of your data change history, ensuring maximum protection and minimal data recovery time.
Whats New
Version 11.5.7 and 10.15.7 Mar 18, 2021
* Browsing Files: Allow files from GoodSync Severs to be listed and opened in a browser.
* Browsing Files: Access to it is in Serves tab of GoodSync Account Web UI.
* Browsing Files: GoodSync server must be ver 11.5.7 or newer, Storage Servers were upgraded.
* Mediator: improved device identification, to avoid duplicate devices.
* Mediator + Web UI: improved login sequence, to accommodate file browsing.
* gs-server + COM: Fixed VSS Snapshot was not working on Gs-Server, it needs OleInitialize.
* File Sharing: improved authentication between Client and Server when they belong to different users.
* Gs-Storage and SetAttributes: do not allow to SetAttributes to make folders unreadable.
* Gs-Storage and File Sharing: improved stuffing of file system when user connects.
* Forwarders + UDP: ignore empty UDP packets, they may occur naturally.
* Job Runner: improved locking of data to fix some rare crashes.
* Google Photos: do not allow to use it with Business licenses.
* Browse dialog: Bring back MS Graph 'national cloud' connectoid GUI option.
* License Renewal: add new promotion to License Renewal: Free 10 Gb storage.
* Browse Dialog: miscellaneous User Interface fixes.
* GoodSync Explorer: miscellaneous User Interface fixes.
* Browse Dialog + Account Manager: Added Revoke Credentials command.
* Job Sending Mail: Increase limit on body of email (which is job log) from 8 Kb to 40 Mb.
* gsync /sa-oauth: Fixed accounts not being written to disk after updating.
* Localizations: Updated NL, UA and ES translations.
Homepage
Code:
https://www.goodsync.com/
Quote:

https://rapidgator.net/file/64eda5f428a0...1.rar.html https://uploadgig.com/file/download/3117...rise11.rar