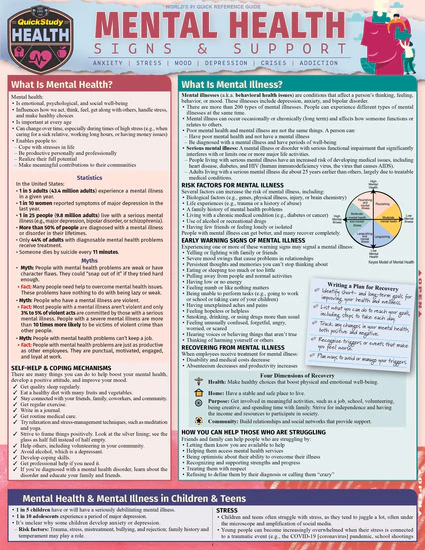 Mental Health - Signs & Support (QuickStudy Health)  | English | 2020 | ISBN-13 : 9781423246220 | 6 Pages | True PDF | 9.54 MB
oncern for your own mental health, those of loved ones, employees, coworkers, students, friends and family is at an all time high. There are signs and symptoms to recognize when help is needed. This 6 page laminated guide can offer guidance as it includes the most common mental health issues faced today in a stressful pandemic-driven start to the 2020s. A COVID section is included as well as existing concerns due to school shootings and other stressors before the pandemic started, plus those that started during the pandemic as well. We worked with our author and expert medical writer to offer an inexpensive starting point for research into getting help, since help needed is more than what you can get from a book or website and ultimately requires help from others. Be one of those others and reach out when you can see the signs it is needed.
6 page laminated guide includes:
What is Mental Health?
What is Mental Illness?
Risk Factors for Mental Illness
Early Warning Signs of Mental Illness
Mental Health Statistics & Myths
Mental Health and Children & Teens
Treating Mental Health Issues in Children
Risk Factors for Depression
Types of Depression
Diagnosing Depression
Depression Questionnaire
Is it Grief or Depression?
Mental Health and Seniors
Treating Depression with Medication
Types of Therapy
Self-Help and Coping Mechanisms for Mental Health
Types of Stress Disorders
Healthy Ways to Cope with Stress
COVID-19 Pandemic & Mental Health
Types of Anxiety Disorders
Symptoms of Anxiety Disorders
Treating Anxiety
Substance Use & Addiction
Treating Addiction
Suicide – Risk Factors & Warning Signs
Types of Mental Health Professionals
Recovering from Mental Illness
Quote: