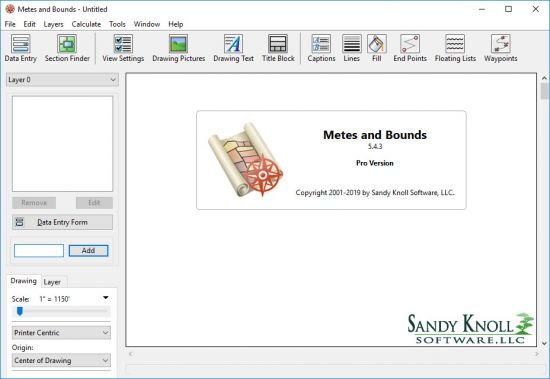 Metes and Bounds Pro 5.8.1

File size: 36 MB
Turn Metes and Bounds data into a deed plot.Auto-completion, Area Calculation, Custom Labels, Sections, Layers, GPS, Compass Rule Adjustments and more. Easy to use data entry form: Enter lines, curves, azimuths and section calls. Data can be entered using the convenient Data Entry Form or freehand using word processor style entry. Calls can also be easily drawn using the call drawing tool.
Customizable Toolbar: Create an interface that fits to your workflow.
Layers: Layers allow you to have multiple deeds on a single drawing. Layers can be free floating or locked to a common starting point.
Perform calculations: Square Feet, Acres, Hectares, perimeter distance and more.
Metes and Bounds will calculate if the survey closes or not. Calculate closure errors: closing error ratios and the call needed to close the plot. Apply Compass Rule Adjustments.
The Metes and Bounds closing error analyzer tool can look for common entry or survey errors and offer suggestions on how to correct them.
Auto-Completion of drawing. If you're missing the final segment of your land plotting data, let our Metes and Bounds land plotting software finish it for you. Have a bad or missing call? Enter a question mark (?) for the call and let the software find the missing call for you.
Multiple measurement types: Data can be entered using feet, meters, rods, chains, varas and many other measurement types.
Merge Layer: Layers can be easily merged into a single layer using the Merge Layer Tool.
Easy to use measuring tool. Estimate the distance between any two points on the screen.
Automatic labeling: Each line can be automatically labeled with the length and call. End points can be marked for easier recognition. End points can also be labeled with information like the interior/exterior angles and Lat/Long coordinates.
Create custom labels. Custom labels can be rotated in any direction. Drawings can include a call list:
Metes and Bounds Call List - Try our deed plotter for free.
Background Pictures. Background pictures can be set to scale with your plot drawing. Background picture scale settings can be automatically set using World Files.
Custom X,Y points. Use custom X,Y points to mark and label unique land features on the metes and bounds drawing.
Split a single plot into multiple plots. Split the plot by hand, or choose a starting point and let the Metes and Bounds software find the nearest halves automatically for you.
Whats New:
[New][Pro] Added the ability to export the call list as a series of Azimuth calls.
[New][Pro] DXF Imports can now import inches, millimeter and centimeter unit types.
[New][Pro] Added the ability to highlight the drawing's origin.
[New][Pro] Added several non-centered grid offsets to the new grid layer popup menu.
[New][Pro] When aligning layers by lat/long, the alignment can now be done via x,y offset instead of a new invisible call.
[New][Pro] The drawing can now save a lat/long setting for the drawing's origin.
[New] Added the ability to include acres in the Section Finder calls. (It use to be limited to excluding acres.)
[New] Added the millimeter and centimeter unit types.
[New] Can now get drawing information by entering "info" into the call entry box.
[New] Added the ability to replace the unit type of all layers.
[New] Can now right-click to hide a floating attribute list.
[New] The scale tape will now show a decimal point when the top number is < 10.
[Fix] Fixed an issue where starting calls create by importing DXF with multiple layers may not be invisible.
[Fix] Fixed an issue importing DXF polygons when there were 10 vertices in the polygon.
[Fix] When adding a bounded line the cancel button will now turn to Done when the line crosses the bounding layer in only one place.
[Fix] The alignment tool is now reset when the drawing origin is switched to Auto-Center.
[Chg][Pro] Title Blocks 3 and 4 will no longer show information about new grid layers.
[Chg] The floating lists now honor the fill colors Transparency setting.
Code:
https://rapidgator.net/file/04044dbe61f73c4eb2c6c6e3bb5a6f72/MetesandBounds5.8.rar.html

https://dropapk.to/dlr638patwlv