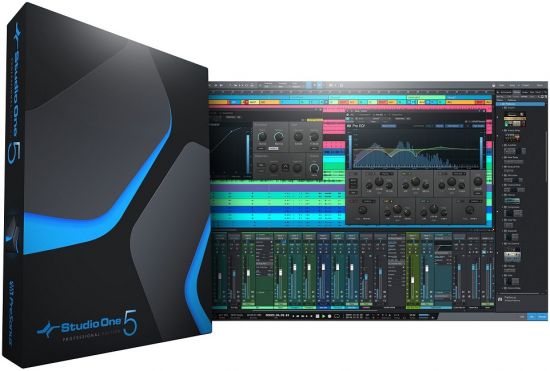 PreSonus Studio One Pro 5.2 (x64) Multilingual  | File Size: 137.8 MB
Create Without Boundaries. Produce Without Limits. Perform Without Fear. Record, produce, mix, master, and perform all from a single, intuitive application. Designed with ease of use at its core, Studio One 5 is your creative partner from studio to stage. Studio One is driven by tools that enhance your creativity without getting in the way; we pioneered its drag-and-drop
workflow that continues to be imitated elsewhere. Laborious tasks that take five steps in other DAWs usually only take... One. A popular example: you can convert MIDI to audio and back with a simple drag-and-drop. Most of your work will take place in the Song Page, where you get unlimited tracks and buses, alongside everything else you need to record, compose, edit, and mix: a complete set of virtual instruments for synthesis (mono and poly) sample-instrument playback, and rhythm; a complete suite of Native Effects plug-ins with a fresh new look and some amazing features new in Version 5, including State Space Modeled analog drive on select plug-ins; and groundbreaking tools for song arranging and prototyping. Studio Ones exclusive Project page lets you master your compositions and comp your record, simply by dragging and dropping your Song file. Studio One handles the versioning and rendering for you, so you always know you are working on the latest mix.
New in version 5: we have leveraged some of our award-winning Notion notation technology to add our new Score View. View multiple tracks on the same Score. View the same track in Score and Piano View at the same time. A streamlined pallet of playback symbols lets you add crescendos, trills and more without rerecording your track. We have also added MIDI Polyphonic Expression support for advanced, modern MIDI controllers.
Last and far from least for the first time and new with version 5, Studio One can join you on stage. The new Show Page lets you add virtual instruments, backing tracks, and plug-in effects to your live instruments with an easy-to-use Setlist. Sculpt your performance and change your show each night, or do a quick edit on the fly when inspiration strikes (or the opening band runs long).
The standard for end-to-end production, only Studio One 5 seamlessly moves with you from initial inspiration to full production, final mix to mastered album, digital release to stage production and lets you truly create without boundaries.
Whats New
Code:
https://www.presonus.com/products/Studio-One/features
New in this build
PreSonus, the makers of Studio One, have released version 5.0.2 with new features and bug fixes, they include.
New features and improvements:
Podcast template now compatible with Studio One Prime
The following issues have been fixed:
Waveforms not updated correctly while
editing logarithmic and exponential fades o applying clip gain envelopes on bent audio
any clip gain envelope edits will cause the user interface to become sluggish
Potential crash on closing a song
Notes in "Mix" record mode are overwritten in certain situations
Not possible to paste note data from clipboard to an empty section of an instrument track
Parts are split on overdub
[Impact XT] Eco Filter may cause 666 errors on the console
Important Notes From PreSonus
UPGRADE CUSTOMERS, PLEASE NOTE: Studio One 5 is installed as a new application and does not overwrite your previous version of Studio One. Both versions can be run on the same computer, just not simultaneously. Songs and Projects created in previous versions of Studio One will open in Studio One 5. However, once you have saved a Song or Project in version 5, you will not be able to open it in an earlier version of Studio One.
It is important to note also that Studio One 5 includes several changes to audio processing features, most notably in the updated Native Effects plug-in suite. Because of this, you may notice changes to the sound of your Song or Project. These changes may be subtle or quite noticeable depending on the processing that was used. Because of this, it is highly recommended that you retain a copy of your session in the earlier version of Studio One so that you can revert if you so chose.
Please also make sure that your 3rd party plug-ins are updated to the most recent version.
Ampire XT > Ampire (third-generation) compatibility: The Ampire XT Classics legacy extension is not compatible with Studio One 5. If you have been using any of the legacy amps in songs you are still working on, you have three options:
a) Finish the song in your previous version of Studio One.
b) Bounce tracks using Ampire XT Classics to audio before opening the song in Studio One 5.
c) Open the song in Studio One 5 and replace Ampire XT Classics amps with any of the new
State Space Modeling amps.
Existing Studio One users will find the update in their user account or by using the Check For Update option in Studio One help menu.
Homepage
Code:
https://www.presonus.com
Quote: