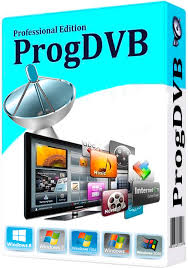 ProgDVB 7.39.6

File Size: 19/18.3 MB
ProgDVB - the universal and very power software for watching digital TV and listening to radio channels! ProgDVB allows you to watch SAT-Television and listen to Radio channels directly from satellite by using DVB-PCI cards with hardware decoders on the board, SAT-dish, and personal computers with Microsoft Windows installed. It has options for working with network broadcasting and Audio/Video recording of the stream to different digital-media formats.
Support for various types of data sources:
Digital tuners. DVB-S (satellite), DVB-S2, DVB-C (cable), DVB-T, DVB-T2, ATSC, ISDB-T.
Internet TV and Radio. About 8000 channels in the base + possible open links to streams or to web page with streams.
OTT. Kartina TV, Rodina TV. Include VOD, archive, EPG and other specific functions.
IPTV.
YouTube. Searching, playback (not all formats) and download of clips.
Torrent TV.
Playback from of files also possible.
Main functions:
High Definition TV support including H.264/AVC
Picture-in-picture support as well as independent simultaneous recording/playback of several channels from one or more devices
Mosaic fast channels preview
Support for the majority of DVB, ISDB-T and ATSC devices including DiSEqC and CAM interfaces support
Support for all digital TV audio formats: MPEG, AC3, AAC,...
Time shifting functionality using the RAM or disk buffer of unlimited size
10 Bands equalizer
TV and Radio channels recording
Playback from disk based files
Electronic program guide (EPG) from Digital TV or XmlTV,JTV.
Teletext
Subtile(Teletext, image-based and closed captions)
Support for VR, VMR7,VMR9 and EVR renderers including OSD (except VR) independently from channel type or signal presence
Network broadcasting
Skins for OSD and GUI
Both Win32 and full-fledged Win64 versions are available
Interface Language Localizations
Currently works with DVB-S, DVB-S2, DVB-T and DVB-C cards of the following manufactures:
Anysee (E30S Plus,...)
AverMedia DVB-S
Azurewave (TwinHan) (VP-1027, VP-1034, VP-1041,... ).
BroadLogic 2030/1030
Compro VideoMate DVB-S
Digital everywhere FireDTV/FloppyDTV
DVBWorld USB2.0 DVB-S/DVBWorldDTV(PCI-Sat), Acorp TV878DS/DS110/DS120, Nextorm NBS240/NSC120
GeniaTech products(Digistar DVB-S PCI, satbox, TVStar, Digistar2, Digiwave 103G,...)
Hauppauge
Kworld DVB-S 100 compatible (Vstream, Dynavision..... )
LifeView FlyDVB
10moons
Netcast DVB
NEWMI Advanced DVB
Pinnacle
Technotrend
Tevii
TBS Q-Box
Technisat
Telemann Skymedia 300 DVB (not official)
Tongshi
Terratec
St@rKey usb box
Cards with BDA driver (possible issues with some cards)
Also works without a card, for example, as a video player or as a broadcast client
Code:
https://rapidgator.net/file/1413e772ee98df81f40e1d2d1a2dafa3/ProgDVB7.39.6Std.exe.html
https://rapidgator.net/file/0c25eb83e47afe539aca84c8c78e9e9d/ProgDVB7.39.6x64.exe.html

https://dropapk.to/diaai5j0x966
https://dropapk.to/upntt32zqzuu