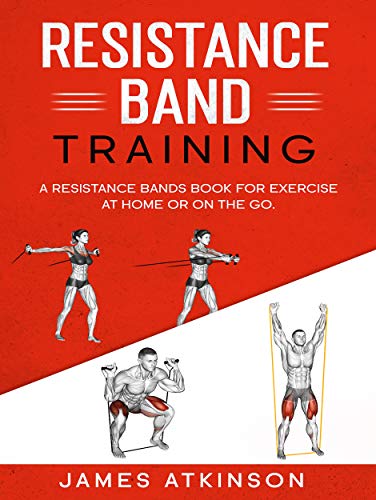 Resistance band Training: A Resistance Bands Book For Exercise At Home Or On The Go | English | 2021 | ISBN-13 : 979-8711445517 | 93 Pages | PDF, EPUB, AZW3 | 11.01 MB   
Resistance band training is for everyone! Any age, any ability, any fitness goal!
If you:
Want a home workout to lose weight and tone muscle
Are a senior looking for functional, low impact exercise
Are a bodybuilder looking for a challenging training session when the gym is out of reach.
Are recovering from an injury and need to strengthen certain muscle groups
Need a fitness solution while away on business or holiday
Resistance band training is an excellent, effective and smart workout solution that everyone can benefit from.
If you are interested in fitness of any kind, be it fat loss, muscle toning, functional training or general wellbeing, owning a set of resistance bands is a must!
Owning a set of resistance bands is one thing however, but knowing how to use them correctly can change your life!
Enter this short but essential guide to resistance band training!
You will discover:
Resistance band exercises for every major muscle group
Illustrated descriptions of all exercises
Full workout plans to get stuck into right away
How to create your own workout plans using the exercises
Blank program cards to copy and fill in
Different ways to train for different results
How to progress so you're always moving towards your fitness goals.
"Training with resistance bands has always been present in my exercise routines. And knowing how to train effectively at home with resistance bands was extremely useful in 2020 and 2021!"
Hi, I'm James Atkinson (Jim to my readers and friends), I'm a qualified personal trainer and I've spent around 25 years of my life training for all types of fitness results.
Although I've been a competing bodybuilder, a long distance endurance runner and a bunch of things in between, I don't like to boast about my success because I have always believed that if you have a goal, you take advice from people who have already achieved your goal, you create a plan based on this and then stay consistent, you will achieve success.
I love to see people achieve life changing results from fitness and as this is a passion of mine I'm always happy to help out more should you have questions, so I'm contactable via my website and ready to help where I can.
It would be great to hear from you and share in your fitness journey!
This resistance band book can be used simply to pick up some exercise ideas, but it can also be your gateway to a wonderfully successful fitness journey!
You are just a click away, so let's get started!
See you on the inside, all the best
Jim
Quote: