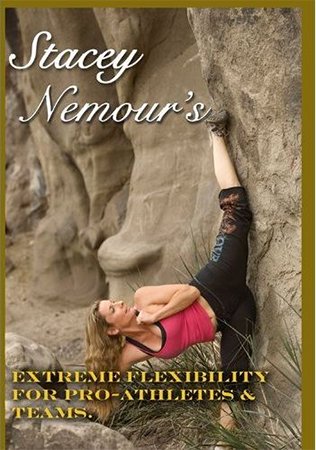 Stacey Nemour's Extreme Flexibility for Pro-Athletes & Teams

Stacey Nemour | Duration: 0h 60m | Video: XviD 720x400 | Audio: MP3 32 kHz 2ch | 348 MB | Language: English
Following up to her popular Secrets of Splits & Flexibility DVD, Stacey Nemour now brings you Extreme Flexibility for Pro-Athletes & Teams. Targeted towards serious competitors and elite professional athletes, Stacey takes flexibility training to another level that is rarely revealed. If you have been stuck at a plateau and would like to go to a new place of serious flexibility that you have only dreamed of, then this DVD is for you. She shows you how to go beyond stretching on the floor and transfer your flexibility training to develop strength, enabling you to perform at your very best. In this DVD, Stacey works with Delaney Lonergran, an extremely talented rhythmic gymnast, to show you training secrets that enable her to excel in her sport. Also making a guest appearance is #5 world ranked freestyle wrestler Jeff Henry, who will show you how a large muscular man can get increasingly more flexible and extend his range of motion, while developing strength. Whether it is martial arts, dance, synchronized swimming, wrestling, skating, gymnastics, diving, soccer, or any other sport, this DVD will show you how to dramatically increase strength and reduce the risk of injury. This DVD has the perfect finish with a short meditation designed to help any athlete program for success.
Code:
https://rapidgator.net/file/5ad5fcb56a273dfea2091487a443885d/Stacey_Nemour-s_Extreme_Flexibility.avi.html

https://dropapk.to/5ymdit0fg5bk