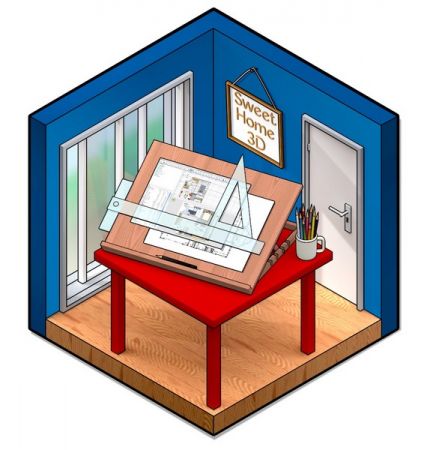 Sweet Home 3D 6.5 Multilingual  | Languages: Multilingual | Microsoft Store Version | File Size: 232.99 MB | 256.72 MB
Sweet Home 3D is an easy to learn interior design application that helps you draw the plan of your house in 2D, arrange furniture on it and visit the results in 3D. An interior design application that helps you draw the plan of your house, arrange furniture on it and visit the results in 3D.

Key Features:
Draw
Draw walls and rooms of your home from scratch or upon the image of an existing plan, on one or more levels.
Change the color
Change the color or the texture of the walls, the floors and the ceilings, importing images of your own patterns if needed.
Drag and drop
Drag and drop doors, windows and furniture onto the plan from a catalog of 1400 objects organized by categories, in which you can import 3D models created by yourself or downloaded from the web.
Customize
Customize the size, the orientation, the elevation, the colors and the textures of each piece of furniture.
View
View the changes in the plan simultaneously in a 3D view, in which you can navigate either from an aerial view point, or from a virtual visitor view point.
Create
Create a photorealistic image of your arrangement depending on the time of the day and the light sources placed in the plan.
Create a video
Create a video from a virtual path in the 3D view.
Print
Print the home plan and the 3D view or export them in files at PDF, PNG, JPEG, SVG, OBJ standard formats, to reuse designed homes in other software.
Release Notes
- Added information about Java and Java 3D providers in About dialog box.
- Fixed toggling magnetism when Alt key is released under Windows.
- Fixed a rendering bug of solid polyline joints.
- Adjusted the image scale of items of the plan copied to the clipboard to prevent out of memory errors.
- Accepted DAE files with empty mesh sources.
- Fixed a bug that reset the color or texture of a wall adjacent to a modified room.
- Fixed the top view in the plan of the mirrored furniture rotated around its Y axis.
- Used lower case for texture names exported to OBJ format to avoid possible conflicts on case insensitive systems.
- Fixed the deletion of folders in work directory when they contain subfolders.
- Ensured the message about version updates is displayed in front of preferences dialog under macOS.
- Added preferences to manage IDs and item names in SH3F and SH3T files in the Furniture Library Editor and Textures Library Editor.
- Added the ability to read default catalogs contained in Furniture.jar and Textures.jar files with the Furniture and Textures Library Editors.
- Added native support for Apple Silicon computers running with ARM processors.
- Notarized Sweet Home 3D installer under macOS.
- Replaced Oracle JRE 8u202 bundled in Sweet Home 3D installer by Azul OpenJDK 11.0.10 under Windows 64 bit and - Azul OpenJDK 15.0.2 under Mac OS X ≥ 10.9.
- Upgraded JOGL library running with Java 3D 1.6.1 to version 2.4 RC 20210111, forcing Sweet Home 3D to use Java version ≥ 8 under Mac OS X ≥ 10.9 as well as with Java Web Start.
- Replaced Java 3D version 1.6.1 by version 1.5.2 for the distributions running with Apple Java 6 under Mac OS X 10.4 to 10.9.
- Updated Sweet Home 3D Ant build script to allow project compilation with Java version > 8.
Other minor bugs fixes and enhancements.
Requirements:
Windows 10, Windows 8/8.1, and Windows 7
Languages included in Sweet Home 3D:
English, Français, Português, Español, Italiano, Deutsch, Nederlands, Svenska, čeština, Polski, Magyar, Ελληνικά, български, русский, Tiếng Việt, 中文 (中国), 中文 (台灣), 日本語
Microsoft Store Version - All inclusive texture and furniture libraries.
Homepage
Code:
https://www.microsoft.com/en-us/p/sweet-home-3d/9nblggh2smtq?activetab=pivot:overviewtab
Quote:

Sweet Home 3D 6.5 Multilingual (x86)

https://rapidgator.net/file/119623eb6853...5.rar.html https://k2s.cc/file/ecf38eceb91e7/Sweet.Home.3D.6.5.rar https://dropapk.to/9a7lvcfp7gnj

Sweet Home 3D 6.5 Multilingual (x64)

https://rapidgator.net/file/cf35266973bb...4.rar.html https://k2s.cc/file/63f0cb538e9ec/Sweet.....5.x64.rar https://dropapk.to/j20lcvn8bww7