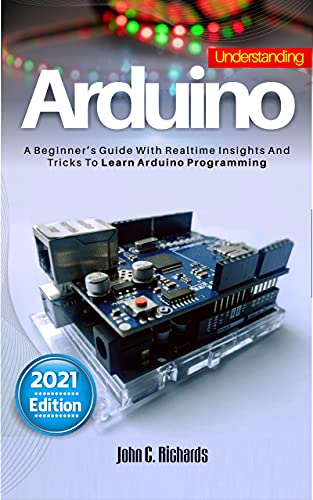 UNDERSTANDING ARDUINO : A Beginner's Guide With Realtime Insights And Tricks To Learn Arduino Programming  | English | 2021 | ASIN : B0943XZ1Q4 | 39 Pages | PDF, EPUB, AZW3 | 9 MB
Arduino is an open-source electronics platform that enables users across the board to create interactive electronic objects from their locations irrespective of distance or border. Arduino is intended to help enrich your experience on the internet with many possibilities or better summed up as discoverable possibilities as well as explore the not-so-hidden capabilities of the software irrespective of your position on the earth's surface.
There is perhaps no limit to what you can do with Arduino and with its edge control, you can sense the future of smart agriculture from your domain. Perhaps, the world will be a better place with the help of Arduino; funnily, not too many persons know about the usefulness of this dynamic software that is engineered to get the best from them and when they know, they don't know how to go about it. Interestingly, we have a detailed step-by-step guide written out in this book that will help you to get the maximal benefit of using Arduino.
Recent occurrence and user feedback suggest that it is now easier to add two-way communication to an Arduino device and this book will teach you how to do that. Hence, if you have got an Arduino device but can't get the best from it because you are not an avid user of the technology or perhaps a tech-savvy person you should stop worrying because this book will teach you all you need to know.
Interestingly, Arduino features customizable artificial intelligence and gesture recognition that many people do not know about or how to use it, this book will show you how. Furthermore, Arduino is designed to make your experience greater as well as aid your exploration of new products. How is this possible you may want to ask? Interestingly for you, the platform has a new look after a rigid renovation and it is nicer and better than ever imagined.
This book is no doubt a tour guard designed to lead you to different segments of the Arduino forum without stress as well as show you all the tips, info, and features you may not know exists on the forum. The book on Arduino is a must-read for every user of this interesting software/forum.
Quote: